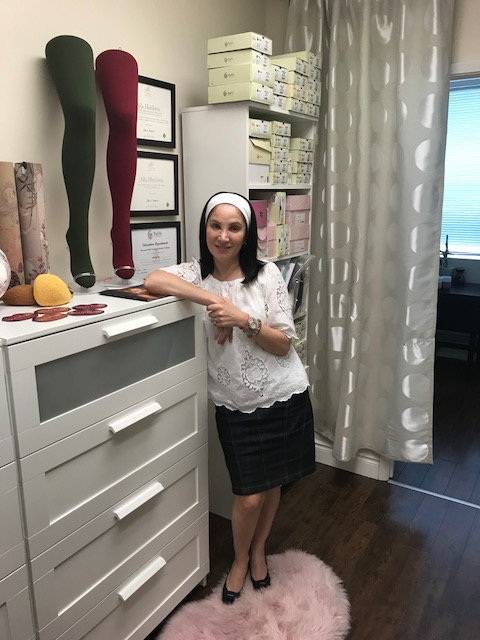 Alla Hardoon: Founder

and Medical Director of Soft Touch Mastectomy
Soft Touch Mastectomy was founded by owner and medical director Alla Hardoon and originated as an extension of Care-Med Ltd.
Alla has over 15 years of extensive health care experience in Toronto. She acquired her first medical degree in 1988 as a Registered Nurse. She continued her studies in internal medicine, orthopedics, biomechanics, Primary and Secondary Lymphedema, Lipoedema, and Post Mastectomy Care, specializing in Oncology Lymphedema.
Recently, Alla has also entered into the field of Functional Nutrition to help her clients and patients understand their bodies and support themselves to the next level of better health.
Alla is a public speaker and educator on the subject of medical compression wear in the field of Primary and Secondary Lymphedema, Lipoedema, Edema, Venous Insufficiency, and Wound care garments. She is considered a top expert in the GTA and well beyond the province. Patients and medical professionals reach out to her for professional advice every day. Private clinics, local hospitals, therapists, and vascular surgeons refer their most difficult cases to Alla for assessment and the best-fitting garments.
Alla's extensive medical background and knowledge of anatomy, physiology, and biomechanics make Care-Med and Soft Touch a one-stop destination for the best-fitted custom-made and ready-made compression wear. As a professional post-mastectomy and medical compression garments fitter and a Certification course graduate of the USA, she has extensive knowledge of Compression, Lymphedema, and Extremity Pumps used for upper and lower extremities.
Whether it's arm sleeves and gloves, stockings or briefs, vests, or face masks, she will fit them all with access to every available brand.
Children from 14 months to seniors are assessed and fitted with love and respect in a beautiful private setting with multiple rooms dedicated to each service.
Alla's assistant is a fully trained medical professional that works directly with Alla. She assists with every client with a caring and personal approach.
Multiple languages are spoken at our clinic for better communication and patient comfort.
Care-Med and Soft Touch are ADP (Ministry of Health and Long-Term Care), ODSP (Ontario Disability Support Program), Ontario Works, Veteran Affairs, Federal Government Workers (Blue Cross), and all Insurance Company approved Fitter and Vendor
.
Mizra De Vera: Office Administrator
Mizra has been with our team since 2019.  She graduated with honors in business management and accounting, in addition to her Bachelor's degree in Chemical Engineering from (Philippines). Her confidence, positive attitude, and ability to work in harmony with her colleagues is an integral part of our clinic's atmosphere.
Mizra's love and compassion for those experiencing lymphedema is rooted in her own personal experiences and makes her an ideal addition to the SoftTouch/CareMed team.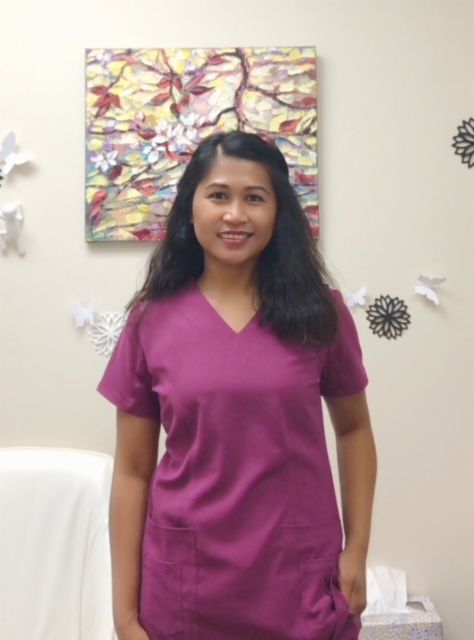 Girly Fulig-Mabborang: Personal Assistant
Graduated with medical background as Midwife, Assistant Pharmacist and recently graduated as a Physiotherapy Assistant and Occupational Therapist Assistant in Ontario, Canada.
I enjoy working in this field of industry, I demonstrate compassion, empathy and diligence in encounter with patients/clients. I showed leadership,ownership and teamwork with the whole team. Indeed I proved to be a good professional.
What Our Patients are Saying
Alla at Soft Touch Mastectomy has helped me through my recent bout of bad lymphedema. The last few years have been hard for everyone with COVID restrictions but Alla stayed open and was able to help me while keeping her office up to date with all health safety requirements and then some. She has always been kind and accomodating. I would recommend her to all needing her services. The only bad thing to say about this place is that there is little parking at her location though there is a mall across the street you can use.
.
As a mother of a child with lymphedema, we have tried multiple fitters in the GTA – I can say with certainty that Alla at Soft Touch is the best fitter in the GTA, hands down. She knows the unique challenges that children with lymphedema face and is sensitive, knowledgeable, and willing to advocate for their needs. She puts in the extra effort to problem solve when things aren't right and is on top of all of the orders she submits. This alone is worth the visit to Alla and team, we have never had this level of support from other fitters. She suggested a pneumatic compression pump when my child's lymphedema wasn't controlled well enough with garments, and helped us successfully advocate for one after years of us asking our physician and being denied. The pump has been life changing and my child's lymphedema has never been this well controlled. She has truly made a difference in my child's life. Thank you Alla and the Soft Touch Team!
Alla and her team are fantastic, and could not recommend them enough. Alla combines outstanding quality of care and knowledge of lymphadema and makes each visit a pleasant one, from start to finish. She also is attentive and patient and takes the time to understand each client, finding the best possible options for them based on her expertise.
Alla is simply the best garment fitter: extremely knowledgeable, empathetic, client-oriented and a real problem solver. There is no one as talented as she is — it is her calling and her passion!
About one year ago I was diagnosed with lymphadema in my left arm. I was referred to Soft Touch Mastectomy as it was close by my home. I did not know much about lymphadema or how complex it is.

Alla not only gave me an education but has fitted me over the last year with several garments. She was very kind and dedicated to finding a garment that worked best for me. Not only did she attend to my needs during the pandemic but I underwent another surgery and there was a delay in delivery of a garment, she was always there saying "how can I help". I am very impressed with Alla's patient centric approach and determination to get the best fitting garment for me. I highly recommend her professional services.
Mastectomy Boutique
From our personal day to day experience we know how challenging it can be for women with healthy breasts to get the right fit, a well-fitting bra is essential, especially for those who have undergone mastectomy or reconstruction after breast cancer.
Post-mastectomy and lumpectomy procedures vary. Some women opt for a prosthesis, which is essentially a breast form (silicone, foam or fiber-fill) that is placed inside of a bra or attached to the chest wall. Other women choose to undergo surgical reconstruction that will involve the insertion of an implant.
All at the end need properly fitted bra to avoid any possible complications, feel and look great. Best fitted bra and proper fitted breast form, helps bring back confidants. John Hopkins Medicine advises that mastectomy boutiques and specialty shops carry a variety of prosthetics and garments. Certified and properly trained fitters, who are skilled at fitting women who have undergone treatment for breast cancer, are big part of women's future new journey.